Central Valley Builds Power to Guarantee Homes for All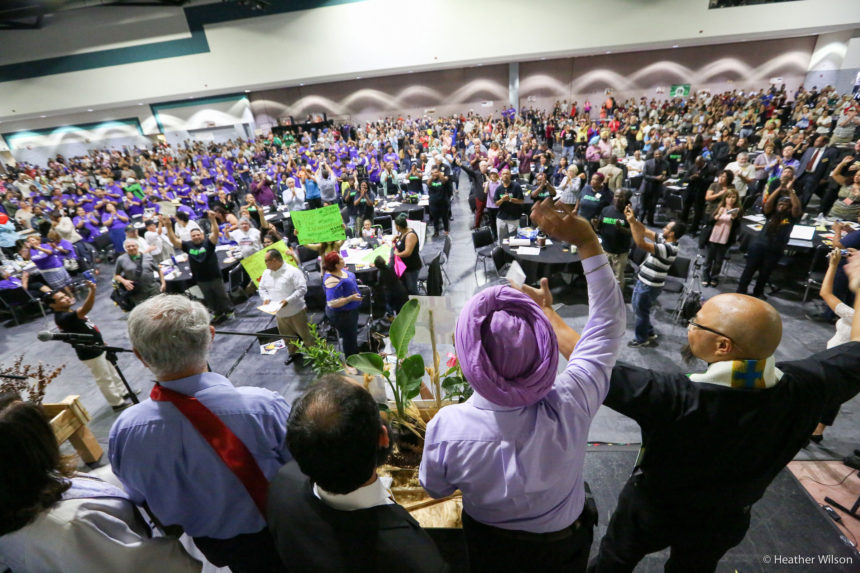 Stories Central Valley Housing justice Racial Justice
F4ICA Draws Lessons to Boost Regional Capacity Building Across California
Community residents and organizers across the Central Valley are building power to create thriving communities where everyone has the opportunities and resources they need.
The legacy and impact of historical and ongoing disinvestment in the Central Valley mean the region experiences high rates of poverty and income inequity. The pandemic exacerbated these conditions with the region seeing the highest eviction rates in California with little to no tenant protections in place. Women and families of color are disproportionately harmed by these unjust conditions.
As organizers mobilize to build better futures for their communities, they encounter local officials who favor bringing market-driven development to the region without taking into account the harmful consequences of the commodified, speculative housing market which has displaced tens of thousands of families from coastal California to the Central Valley.
In 2019, the Fund for an Inclusive California worked with Central Valley community organizations to hold a statewide convening in the region and facilitate local leaders to build relationships and power with partners advancing housing justice and equitable development from across California. The Fund heard from Central Valley leaders that it was important to amplify their efforts statewide while strengthening relationships among groups in their vast region.
At the Stockton convening, leaders from cities and counties along the Highway 99 corridor took part in an arts and culture exercise that revealed how each community struggled with common housing injustices stemming from shared root causes. The convening was a catalyst for Central Valley organizations to continue building political power together, and their lessons have informed F4ICA's regional capacity building efforts.
Community organizers across the region have partnered on campaigns to establish renters' protections and guarantee homes for all. In Fresno, the coalition successfully advocated for an eviction protection program passed into law in Summer 2021 that will support individuals and families facing eviction to access mediation or legal counsel if they fit certain criteria.
But organizers recognize the legislation will not go far enough to protect renters and families. Groups like Faith in the Valley and Fresno Barrios Unidos are advocating for Right to Counsel to address the unjust legal system that sees only 3 percent of renters access a lawyer in eviction court, as opposed to 81 percent of landlords, ensuring outcomes in favor of property owners.
In addition to pushing for expansive eviction protections, Central Valley leaders launched the Homes Guarantee campaign in early May 2021 that "looks like every person across the Central Valley having a safe, secure, accessible, and deeply affordable home. It looks like racial equity, community ownership, and keeping families whole."1
Community Advisors across the region note that F4ICA's investment of resources and convening infrastructure in response to their needs has helped groups build relationships and power to advance housing policy wins.
"There's definitely been more collaboration across housing organizations in the Central Valley because of the Fund for an Inclusive California," said Trena Turner, Executive Director of Faith in the Valley and an F4ICA Community Advisor.
Turner went on to put forward a clear call to action for the Fund and its peers in philanthropy.
We encourage you to develop strategies with your philanthropic peers not only to fund the organizing," said Turner, "but to create lasting resources that will enable us to branch off into new areas and to push policymakers further in service to our communities. We also call on philanthropy to explore opportunities to leverage private resources to match public funds.
1 https://www.fresnobee.com/opinion/readers-opinion/article253224683.html